The Basic Layout of a Business Plan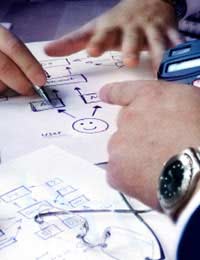 A business plan should be structured in such a way as to get a message across to the reader.
What is that message?

Crucially, it is to show the reader that you have a viable business.
The reader may be an investor, a bank manager, or even the personnel within the business, but each will need to be able to read the business plan clearly and understand that the strategy for the business is viable.
The key sections of a business plan are these:
Summary
Management
The Product (Service)
Marketing
Operations
Financial Analysis
Past and Future
This simple list can act as a template for business planning.
When writing the business plan, he sections could be combined or even separated into more, but these seven headings give you the template to get across your business planning message.
Summary
This should summarise everything that is to come in reading the full business plan. As such, this section should actually be written last.
Management
Here you should outline the type of business this will be (e.g. limited company), and the people who will run the company. Show their experience and achievements in business. If there are obvious weaknesses, then you should demonstrate how you will deal with them.
The Product (Service)
What is it that the business is going to do? What will you produce, and why would people buy it from your business? Here you can also briefly mention competition, and why you think there is room for your product or service in the market. If relevant, mention any patents applied for in this section.
Marketing
Marketing is critical for business planning. This section is not only about market
ing
, but the
market
you're about to enter. How large is the market, and what are the prospects for future growth? (Think say, VCRs versus hard-disk TV recorders.)
You should also identify your likely customers in this section and show your knowledge of any competitors. How will you reach your target market, and what will make people buy from you rather than the competition? What are the particular benefits of your product or service? Also, this is the place to discuss methods of selling – from door-to-door through mail shots to internet selling – and who will do the selling. You might also give an indication of how you will price your product or service here.
Operations
This section should give an outline of how you will produce your product or service. Without too much detail, what will the processes of the operation be? Where will the operation be based? What equipment (including IT) and manufacturing capability will you need? Who are you expecting to be your major suppliers? As well as equipment, what is your IT strategy?
Financial Analysis
This is quite evidently a critical section. Business planning is all about the "bottom line" information for potential investors. How and when will they make their money back, and start getting a return. This section should show:
Summary of financial forecasts
Profit and loss by month for say, two years
Profit forecast for another three years
Cash flow by month for two years
Balance sheet forecast for two years
Assumptions behind the figures
It would also be helpful to show the main risks which could affect the figures, and how you plan to address the risks. Printed spreadsheets can be put into an appendix to the business plan.
Past And Future
When business planning, it is important not to be blinkered in your approach. Look openly and honestly at the past of:
The market
Your business experience
This actual business (if it has been running for any length of time)
Here you may well find some clues as the future prospects of your business. It is much better to address any issues early, rather than plough on in falsely optimistic hope that you can make things work. (If you've found a very cheap method for making VCRs, then that may be very clever, but you still won't sell any!)
Business planning is not all about the apparently arduous task of actual writing your business plan. It is about thinking about the strategy for the business and then communicating it clearly to readers of the plan.
HOW TO WRITE A BUSINESS PLAN IS FOR SALE.
This website is for sale [more info].
You might also like...