Including Business Processes in Your Plan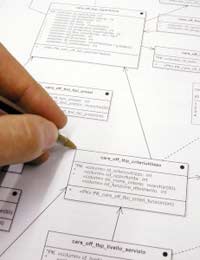 A business can only grow if it is based on processes. A process is a uniform way of carrying out an activity to defined rules within the company structure.
Including business processes in your business plan will demonstrate that you have considered how to give your business the ability to grow in the future.
Your First Business Plan
Writing a business plan for the first time should be a period of optimism. This is a springboard for your business's – and your own – future. You should, of course, sound a note of caution – pessimism, even – in your financial forecasts. Predict the worst-case scenarios and you should always manage to keep your cash flow under control, which is vital to running a small business (any business – look at the banks, whose cash flow has gone out of control this year!).
The business plan will inevitably concentrate on the first year in hard figures, and although the figure may be expressed for the years beyond that, they will necessarily be softer and less easy to predict.
Yet, no doubt, the figures for the future will be optimistic, showing an upward trend and a successful, growing, business. They should be. After all, how could you convince investors to come up with finance for your business, if your figures were upward for the first year or two, and then flat or even downward? You couldn't, and, quite rightly, they shouldn't invest in such a business.
Future Growth
How can you make sure that your business will continue to grow in the future?
Fundamentally, it cannot and must not be dependent on individuals. You have to break down your business into processes that can be fulfilled by the least skilled person possible. Yes, that really is the person with the lowest level of skill. A business model with processes that depend upon people with the highest levels of skill is going to impossible to scale up.
Highly skilled people are difficult to find and expensive to employ. You need people with the lowest level of skill possible to carry out the functions of each process. That is why you must break down your business into processes. Inevitably, some positions in the business will require more skills than others, but you need to come up with a business model broken down into processes to minimise the skills required. Make your business systems-dependent, not people-dependent.
The business plan should demonstrate this. The plan should show how you have, or are going to, break down your business into processes which can be fulfilled by "anyone" rather than "experts".
Make Your Business Scalable
The business plan should show how your business will be able to scale up. This can never be by one person doing more and more work. If you are a sole trader, then you may well be able to run a successful business for yourself, but you will not be able to grow it into a large business from which you can sit back and take the profits.
Without you, the business doesn't exist. If you are a one-person limited company the same limitations apply. Be wary of creating a business around a job you love, only to find you have created other jobs that you don't love to do – accounts, selling etc. If you create a business for one person, you are really creating a job (or several jobs) for one person, rather than a business. A business must be scalable.
The business plan must indicate that the processes that go to make up the business will be clear, concise and within a defined structure. How wonderful that will look to any potential investor. Here is a business that knows what it wants, knows where it is going and has a clear path and a defined set of processes to get there.
The plan should also show how the processes will be documented. They cannot be contained in someone's head; not the owner, not the chief engineer, not the secretary. If processes are in someone's head the business is immediately person-dependent, and that's exactly what you must avoid.
Customer Confidence
With a business model made up of clearly defined processes, the customer will know what to expect – every time. Each visit – whether to the office, to the website, on the phone, via email – should always be the same. The product or service should be the same very time. Top quality, of course, it must be; but the customer knows what to expect and is confident of the same top quality service each time he does business with your organisation.
All details are important, and that may be down to dress code, standard ways of answering the phone, logos, colours of the business, and all related things.
Standard business processes will make your business scalable and give it the best chance of future growth and success.
You might also like...