The Main Elements of a Business Plan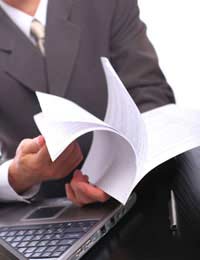 If you're starting up in business then one of the first things you will hear is that you need a business plan. You may be networking, on a course, or simply approaching a bank, but you will be asked it more than once: Have you got a business plan?
This may seem liking a daunting prospect to someone new to running a business, but it need not be, and a business plan can be broken down into distinct elements that will make it easier to construct.
However, before we come to those elements, and before you start typing up your plan it is worth sitting back and doing a bit of thinking. Sit back, close your eyes, relax, and think about your business.
What Does Your Business Really Do?
Do you have a vision for your and the business's future?
Do you know where you want the business to be in five years' time?
Do you know how you will get there?
Do you know about the market your business will be in?
Do you have the people in place to help you achieve the goals?
Do you have any idea how much it will all cost to set up, or how much money you can make?
Do you know the processes you will use to produce what you are going to sell?
Do you know how to make the business work in the long run?
If you spend half an hour thinking about these things, you will either fall asleep (that's fine; rest is good!), or begin to formulate some ideas that might help you make a real business – and help you create you business plan.
The Main Elements Of A Business Plan Are:
Executive Summary
Business Vision
Management
The Product
Marketing
Operational Details
Financial Analysis
Prospects
These may be combined in some cases (e.g. Vision with Product, or Product with Operation), or other sections (e.g. Strategies) may be broken out of Marketing, but fundamentally this is the simple template for a sample business plan.
So what do they mean?
Executive Summary - Is a summary of what's in the plan. Although it's the first item in the plan, it should be the last section to be written as you will build it from the other elements.
Business Vision - This should be a few lines encapsulating everything about the business: who you are, what you do, where you hope to be, some idea of how you're going to get there.
The rest of the plan is really bulking out what you say in your vision.
Management - This section tells the reader about the people who are going to run the business, and why they are suitable to do so. Some relevant past employment and achievements will be useful.
The Product - What exactly are you going to produce? Without using jargon, say what you are going to produce. Is it mended bikes, bound books, financial advice, sculptures, airline flights? What are you going to try and sell?
Marketing - What is the current market, and why do you think your business can fit into it? Who are your likely customers and how do you plan to reach them? Why will people buy your product in preference to others in the marketplace? What are your selling and advertising strategies?
Operational Details - You're going to produce something. It may not be a physical item, but you're selling something. How are you going to produce it? Where will you be based? What equipment and systems will you need? What processes will you follow?
Financial Analysis - This may be the trickiest section of the lot, especially if you're not confident with numbers, but you must do some form of financial planning. Without it, you have no idea whether your business is viable (i.e. will make a profit), and whether your cash flow will work (i.e. you always need some money "in the bank"). See articles on financial planning.
Prospects - In a nutshell, how do you see the business progressing in the next few years? Include a summary of the finance required. When will any investors get a return on their money?
Go to it. Start thinking about your business plan. Then get writing.
HOW TO WRITE A BUSINESS PLAN IS FOR SALE.
This website is for sale [more info].
You might also like...