Who Needs a Business Plan?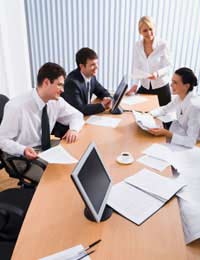 The short answer to the question in the title is: everyone who is in business.
That may seem facetious, but it's not. I guess the follow-on question should be: why does everyone in business need a business plan?
Business planning is needed by businesses so that they can understand what they're doing, where they're going and how they're going to get there – and help other people understand too. Anyone in a venture that will take time, energy and money, and from which they expect to return a profit should regard themselves as being business and will need some sort of business development plan.
Sole Trader, Partnership, Limited Company
If you are a sole trader, in a partnership or starting up a small limited company, you will probably need some funding help to start up your business. Your business plan is the best way to convince banks or investors with venture capital to invest in your business.
People new to business often dive in headlong and their aim is to "get started" as quickly as possible. However, if they do this without a plan, they will run out of ideas, direction and any sense of real achievement very quickly. Inexperienced start-up small business owners may have the alacrity to get their business underway by dint of enthusiasm alone, but without a business plan their business will soon flounder.
There could be several reasons:
Their initial contacts will dry up;
Their first sales will not be followed up;
They will have no real idea whether they're doing well or badly;
Even if a lot of work comes in, they will have no way of coping with it;
The finances will run out.
A business plan helps to guide the business, pinpointing objectives, priorities, helping to understand the business's cash flow.
Investors
Although a business plan won't on its own get you any venture capital, you certainly won't get investment without one. Investors have to understand what they're investing in. That is why they need the business plan to define and explain the business they're thinking of investing in.
Another reason for needing a business plan is that business can be distracting. As problems and opportunities appear then get dealt with, it is easy for a small business to lose track of what it should be doing and why it's doing it. Although business development plans can, must and do change, they help a business understand what it said it would do, why and how it would achieve it. Without the plan it's an aimless struggle down a blind alley.
It's not just start-ups that need a business plan. It's all businesses. And that doesn't just mean those who need more finance, or more marketing or have come up with a new product.
Keeping Track
All businesses need a business development plan so that they can continue to keep track of their activities, assess how well they are progressing (i.e. whether they are ahead of or behind the plan), see whether previous ideas have been working or need changing, and look forward to the future with new cash flow projections based on what has happened to date.
Sole traders or small businesses may think that they don't need a business plan, or that it is a necessary nuisance to satisfy their bank manager. Some may think they can write a minimal business plan once, and then forget it. However, they are mistaken. Without a business plan they will soon find they have no business at all.
Business plans are easier to develop than most new business owners think. For a business to succeed it is essential to plan the objectives, set priorities, list activities, allocate resources, and plan the finances.
If you're in business, you need a business plan.
HOW TO WRITE A BUSINESS PLAN IS FOR SALE.
This website is for sale [more info].
You might also like...