Organisational Structure of a Business Plan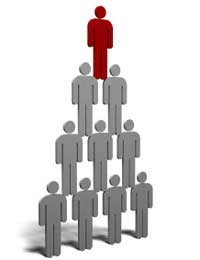 Any organisation must, by its very name, be organised. That means having a clearly defined structure. It is useful to get this sorted out as early as possible in the life of the business, and the business plan should contain an indication of the management structure of the organisation. It is all about showing who will be responsible for what.
Business Types
Businesses can basically be set up in one of three ways:
Sole trader
Partnership
Limited company
For a sole trader, organisation of the business is straightforward. The owner is the business, and he/she is responsible for everything.
In a partnership there will be two or more partners who will, in some way, share responsibility for the tasks that need doing.
In a limited company the people who own and run the business form part of the management team. They are called directors, and one will be the leader: the managing director.
Investment Confidence
Banks and potential investors who are reading the business plan will want to know that they are reading about a viable business organisation before they put any of their money or resources at risk. Part of the confidence they will be seeking will be in the management team and the structure of the business.
In an organisation several major tasks need attending to. They are usually grouped under the following headings:
Finance
Sales and Marketing
Human Resources
Operations
IT
In a limited company somebody will be a director for each of these areas. So, there will be a Finance Director, an IT Director etc. If there are only three directors, then at least two people will have to double up. You could end up with the following management structure.
Managing Director: Person A
Finance Director: Person B
Sales and Marketing Director: Person B
Human Resources Director: Person A
Operations Director: Person C
IT Director: Person C
Persons B and C are doing two directors' roles. Person A is the HR Director, and the MD too.
The organisation of a partnership could work similarly, but the titles are not directors. The principal, however, is exactly the same.
Who Does What – And Why
In a business plan, it is useful to explain why certain people are in certain roles. Even if the business is made up of young entrepreneurs, it is important to understand why you have put people in their roles, and explain that to others.
In the early stages of a business, you may not even think about employing staff. As you try to get the business up and running, it is often the owners who "get their hands dirty" and there are no staff. However, you might be setting up a business in which you have clear idea from the outset of the staff you need – or at least the jobs that will need doing. In the business plan you will need to talk about staff in the sections concerning operations and finances at the very least.
What jobs are staff going to do?
What is the expected payroll and wages?
Will staff be part-time, commission-only or full-time?
In your business plan, make sure that the management structure of your organisation is clearly defined. Who will be responsible for what? And show what staff you plan to recruit. Who will be doing what?
You might also like...
The 360 feedback is the system is used by human resource managers in gathering information for use in management activities.
360 Feedback
- 4-Aug-11 @ 5:17 AM