The Basic Structure of a Business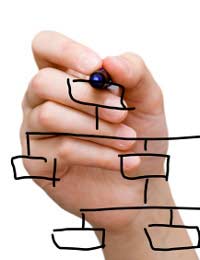 When you begin your business you should ensure it has the right legal structure. It is up to you, as the business owner, to choose the structure, and you should put this into your business plan.
The business structure you choose affects how you run the business, how you can raise money, the documentation you must deal with and your liabilities.
Sole Trader
This is the simplest way to run a business is as a Sole Trader, as it involves no registration fees, record keeping and accounting is straightforward, and the owner keeps all the profits. The biggest drawback is that you are personally liable for any debts – meaning your assets, such as your house, could be vulnerable – which is risky if the business needs a lot of investment.
To operate as a sole trader you must register as self-employed with HMRC. You must submit an annual self assessment tax return to HM Revenue & Customs, and you must also keep records showing your business income and expenses.
Partnership
A partnership is a business in which two or more partners share the business ownership, the risks, costs and profits. Each partner is self-employed according to HMRC rules. In most cases the partners share decision-making. They also share debts – even those that have been run up by an individual partner – and a partnership has no legal existence except as the partners themselves. If one partner leaves the partnership – for whatever reason – it must be dissolved, but the business can continue.
While a partnership is a fairly simple way to run a business, there is no protection for the partners should things go wrong. A Deed of Partnership is usually drawn up between the partners, and, although you can use a solicitor for this, there is no legal requirement to do so.
Money raised for a Partnership business usually comes from the partners themselves or from loans. Sleeping partners are partners who contribute money to the business (and expect a share of the profits), but who take no part in running the business. HMRC expects to receive tax returns from the business itself and each of the partners.
Limited Liability Company
A limited company is a legal entity in its own right; the finances are separate from those of the owners. Shareholders in the company can be individuals or other companies, and they are not responsible for any debts of the company. They are likely, however, to lose the value of their investment, if the company should fail.
Private Limited Companies can have more than one owner (shareholders), but shares cannot be offered to the public.
Public Limited Companies do have their shares issued for sale to the public, and must have at least two owners. A company must have a value of at least £50,000 before it can trade as a plc.
A limited company must register with Companies House – at which it is said to be incorporated. The director(s) (minimum one) must be at least 16 years old. A private limited company does not have to have a secretary, but it does, that person must be named to Companies House. A plc must have a qualified company secretary.
A single director (individual ownership) or board of directors run the company. Directors are employees of the company. Finance is raised from shareholders, loans and profit retained in the business. Accounts must be sent to Companies House before each year, and they must be audited each year unless the company is exempt. Profits can be distributed to shareholders in the form of dividends. If the company makes any profit, it will be liable for corporation tax.
The structure of a business is important for the way it will raise finances, be run, and for its liabilities because of this, the structure must be specified in the business plan.
You might also like...