All About Building for Growth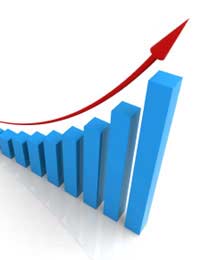 Your business plan should strike some note of optimism for the future. It is the forecast of profits in the future that will entice investors to part with their cash to help finance the start-up of your business. It is probably the belief that you can make a decent living out of running your own business that prompted you to start it up in the first place. Despite the pessimism that you should use to generate your sales figures and profit and loss forecast, hopefully your business will be projected to show a profit in the future.
Once the business is up and running and in the black, where do you go next?
How do you build for even more growth?
Increasing profits
There may be a number of strategies and objectives you can adopt in the pursuit of greater profits, but it basically boils down to these three options:
Cut costs
Increase prices
Sell more
It is unlikely that you achieve significantly higher profits by either of the first two methods. Cutting costs may streamline your business, but it doesn't really set it up for future growth. Increasing prices may increases your profits, but if the competition has more competitive prices than you, then you are just as likely to lose sales, and end up with reduce profits.
Selling more of the same, or selling (more of) something different is the best route to increasing your profits. This may increase costs in the short term if, for example, you undertook a large marketing campaign to widen your customer base.
The first step to take is actually to try and sell more to your current customers. If they are happy with your current product or service, how can you sell more to them? You could look at improving the quality of what you offer, or customer service, or offering them discounts. Changing your range of products may mean expanding the range or even rationalising it by cutting down on the number of products you offer. This may cut production costs, and may identify you as a specialist in the field.But even selling more to your existing customers has limited scope for increased profits.
New Markets
You need to sell to new markets. What strategies could you consider? Look at:
Your image - Are you giving the right impression to potential customers?
Advertising - Are you reaching the right customers? Is your message consistent at all times?
Selling - Are you telling people about the benefits of your product? Are you watching the competition? Do you have sales scripts? Are you chasing up all leads?
Your business plan will have to change if you are going for larger growth. The strategies and objectives will have to reflect the new ambitions. Remember that a business plan is not one meant to gather dust on the shelf – it is a working document, and it can be modified to take into account changing situations and changing goals. If your new goal is to go for growth, then your business plan must change.
There is little doubt that the motivation for increased profits is strong in entrepreneurs. They want to see their business succeed, and increasing profits is a clear indicator of a successful business. Many entrepreneurs have the goal of making themselves financially independent, so growth of profits in their business will be key to that goal.
Scalable
To build for growth your business needs to be scalable. That means that your business must consist of processes that can be performed independently of the person who is carrying them, and the processes must be applicable to producing more – hence the scale.
If your business has people of a system that is a bottleneck, then the business cannot grow. All such bottlenecks must be removed or resolved.
The sole trader who does everything in her business may be happy – but she will always have limits to how big her business can grow.
The one man limited company will have to look to employing staff to expand his business beyond what he can achieve on his own.
Think Bigger To Grow Your Company
A business cannot grow without changing. It may cut costs or increase price to increase profits, but to truly grow is must sell more, and find new customers and new markets. A business must be scalable to be able to achieve growth.
You might also like...