Four Rule Breakers Who Made it Big: A Case Study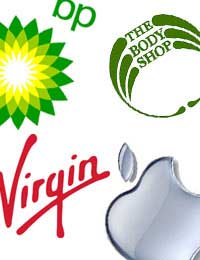 In business, what are the rules? Are there any rules in business? If you join a company you might find there are some rules. If you form your own company, you can make your own rules. What about ethics? Yes, it is best to follow some ethical rules, and never break the law.
When setting up your own business and your own business plan, don't be afraid to push back the barriers. Be innovative, try something new.
With the apparent rules of "do this", "don't do that" … break them!
Look at these four rule breakers.
Anita Roddick
Sadly, Ms Roddick died in September 2007, after a fine business career. Born in 1942, she was founder and managing director of The Body Shop, whose first shop opened in 1979. Originally the Body Shop offered natural skin and hair products which were sold in specimen bottles to cut costs. Shaping ethical consumerism, the company was one of the earliest to ban the use of ingredients which were tested on animals and it was one of the first to promote fair trade with third world countries.
Ms Roddick campaigned for environmental and social issues and was involved with Greenpeace and The Big Issue. She also founded in 1990 Children On The Edge, a charitable organisation set up to help disadvantaged children in Eastern Europe and Asia.
Coming from a time when environmental and social issues were not on the top of everyone's agenda, Anita Roddick was not afraid to lead the way on issues that were important to her, and at the same time she built a huge and successful business.
Richard Branson
The brand name of Virgin is now everywhere – covering everything from airlines to financial products – having touched many other areas on the way. Branson has a reputation for being unconventional and daring (e.g. his transatlantic balloon flights). Is everything he does done for effect and publicity? Perhaps not everything, but not most column-inches are beneficial. Born in 1950, Branson started his first venture at 16, with The Student magazine. His first record shop was opened in 1971, and the airline began in 1984. Branson took Virgin into public ownership and then bought it back. Rules? What rules?
By his own words, Branson claims that his interests in life comes from setting himself big, apparently unachievable challenges and trying to conquer them. In that, he includes wanting to "live life to the full."
Steve Jobs
Born in 1955, Steve Jobs formed Apple computers with Steve Wozniak in 1977. It was one of the first commercially successful personal computer companies, and they took the company from $5,000 to $1.7bn in just four years. Jobs was on one of the first people to understand the see the commercial potential of the mouse-driven graphical user interface.
Although ousted from Apple in 1985, he founded NeXT, which was bough by Apple Computer Inc. in 1997. Jobs was soon made CEO on the company he had founded and left. He has also served as CEO of Pixar Animation Studios. Recent iPod hardware and software has taken the music industry and the way people listen to music by storm.
Robert Horton
Perhaps not as well known in popular culture as the other three business people here, Robert Horton is a British businessman.
Born in 1939, he is now Director of the European Advisory Council and of Emerson Electric Company. Horton spent 30 years working for BP, becoming Chief Executive and Chairman of the Board of BP in March 1990, but was forced out in 1992. At BP, Horton had a reputation as a trouble-shooter and sorted out the company's tanker over-capacity of the 1970s, followed by its chemical business in the following decade.
After leaving BP, Horton became Chairman of Railtrack from 1993 to 1999 and led the organisation through the early years of its existence, which included an industrial dispute in 1994. He was also non-executive Chairman of Betfair from 2004 to 2006.
Do Things Differently
Sometimes, to get things done, you have to cut through barriers and break rules. These four have not been afraid to do things differently to achieve an ambition, either for themselves or for their company.
It may be advantageous to break the rules, but it could backfire. There are risks. Consider:
Will going against the grain be a cause for disapproval against you?
Will you be seen as innovative?
Will you be seen as rebellious or creative?
Will you increase your influence by setting new rules?
If the answers come out negative, the risks might be too much, but the positive aspects could far outweigh the downside possibilities.
HOW TO WRITE A BUSINESS PLAN IS FOR SALE.
This website is for sale [more info].
You might also like...