Take Our Marketing Questionnaire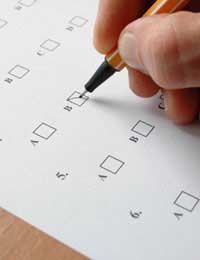 Marketing covers a wide range of topics such as products and services, advertising, sales, promotions, and the marketing mix. People often confuse advertising with marketing, but advertising is just one aspect of marketing. Marketing is all about finding your potential buyers and attracting them enough to make them buy your product, hopefully over and over again. Marketing involves research and understanding of your market, your competitors, and how to make your product appeal to buyers.
There are a number of articles about marketing on this website. Have you read them yet? What is your understanding of marketing? Have you read enough to gain sufficient knowledge to make marketing work for your business. Take our marketing questionnaire to find your depth of knowledge. For each question, choose one option, a, b, or c, make a note of your answer, and then score yourself at the end of the questionnaire.
Questionnaire
1. What is a market for a business?
a. A target audience of potential buyers.
b. A place where buyers and sellers come together.
c. A place to buy food supplies for the canteen, such as apples, bananas, potatoes and cabbages.
2. What is market share?
a. The percentage of the total sales of a product achieved by a particular brand.
b. The number of sales achieved by a particular brand.
c. The proportion of sales achieved by a product in a week.
3. What is market segmentation?
a. The classification of (potential) customers into groups, each of which responds differently to different products.
b. The classification markets by their different products.
c. The grouping of (potential) customers into groups with different amounts of money.
4. What are the benefits of market research?
a. It give the government information about taxable income of organisations.
b. It allows an organisation to identify a number of important pieces of information such as objectives and trends.
c. It enables an organisation to spy on its competitors.
5. How is market research carried out?
a. By an in-house brainstorm.
b. By rigid questioning of one market segment.
c. By a number of methods, such as experiment, observation, surveys, and test marketing.
6. What are marketing objectives?
a. The goals of a marketing function within an organisation.
b. The short-term measures of a organisation to meet short-term targets.
c. The purchasing targets of an organisation.
7. What does the term USP stand for?
a. Unit Stock Purchase.
b. Unique Selling Point.
c. Undersold Product.
8. What is the marketing mix?
a. A mixture of marketing strategies, and targets.
b. A mixture of information from different markets to give an overall view.
c. A combination of the four Ps: product, price, promotion, place.
9. Which of the following is the most accurate statement about secondary market research?
a. The information is only made available to you organisation, so is invaluable.
b. It is cheaper than primary research, and consists of available information.
c. Secondary surveys happen so infrequently that the information is always old and unreliable.
10. Which of the following is most accurate statement about the product life cycle?
a. All products follow a different life cycle and there is little or no pattern that is consistent among different products.
b. The product life cycle consists of five stages: development, introduction, growth, maturity, decline.
c. The product life cycle is very useful in strategic planning because the exact life span of a product is always know its introduction.
Points are given like this:
1. a) 2 b) 3 c) 1
2. a) 2 b) 1 c) 3
3. a) 3 b) 1 c) 2
4. a) 1 b) 3 c) 2
5. a) 1 b) 2 c) 3
6. a) 3 b) 2 c) 1
7. a) 1 b) 3 c) 2
8. a) 2 b) 1 c) 3
9. a) 2 b) 3 c) 1
10. a) 1 b) 3 c) 2
Add up the scores from your answers.
How Did You Score:
25-30: You have a very good understanding of the basics of marketing. Be sure to keep on top of your marketing and ensure your marketing plan is updated regularly.
18-24: You have some of the basic ideas about marketing, but need some fine tuning. Keep reading the marketing section of "HowToWriteABusinessPlan" to improve your knowledge. Remember that the marketing section of your business plan is critical to the long-term success of your business.
17 or less: You need to work harder with your understanding of marketing. Marketing is crucial to the success of your business as it helps you take your product to the people who might want to purchase your products. Start reading "HowToWriteABusinessPlan" and, in particular the marketing section, in depth to gain a better understanding.
You might also like...