All About Attracting New Clients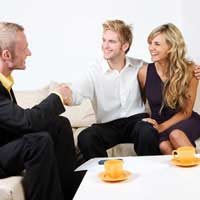 The bottom line for a business is that it needs to make some sales; it needs to sell its products or services. Without sales there is no income to the business.
To make sales a business will need clients. When a business is brand new it will need to attract new clients – fairly obviously, there are no existing clients.
Plan For New Clients
Attracting new clients should not be a random, blindly hopeful act. It should be a planned activity, and the strategy for attracting new clients should be laid out in the business plan.
Prior to any direct selling or promotional activity taking place, a plan should be made to prospect for clients. The act of prospecting identifies buyers, and looks for quality, not quantity.
A prime prospect file is crucial for a business hoping to make sales – and that's all businesses. Market segmentation can help you decide where you might find your most likely buyers – prime prospects.
Prospecting falls into four stages:
Canvassing
Prime prospect selection
Hot prospects
Customer acquisition
Canvassing is the act of researching and finding new clients. Traditional sources of data for new clients can include:
Electoral registers
Trade directories
Market research lists
Seminars or presentations
Trade associations
Publications
Networking
These days, with the Internet, there are a number of other ways of sourcing new clients. These include:
Online networking
Forums
Your website
Writing and newsletters
Prime prospects
Once you have a list from your canvassing activities, you need to narrow this down by prime prospect selection. This means assessing your prospects for the following key attributes:
It boils down to this:
No matter how good your product, or how slick your sales patter, does the prospect actually need what you are offering?
A Bentley might be a bargain at £300,000, but that doesn't mean your prospect can afford it – do they have the money to be able to pay for your service?
Are you talking to the right person? Is this the person who really makes the buying decision?
Assuming you get "yes" responses to the questions above that you have asked yourself about your prospects, you now have some hot prospects. These are the people on whom you should spend time and effort. You have the opportunity to sell, and you should make sure you don't miss it.
Conversion
The final stage of prospecting is
customer acquisition
or conversion, when you actually make the sale. At this point, remember that it is better and more financially viable to keep existing customers rather than prospecting for new clients – so treat your client well. Also remember: selling-on (to associates of the client) and cross-selling (different products to the same client).
More On Canvassing
The key activity is canvassing – finding any list of potential customers in the first place. This is what you must make a plan for, and it's not just a one-off; it's iterative and something you must go round again, and continue to do. That means having a schedule to review the electoral registers, trade directories and lists. It means putting in place a timetable for seminars and presentations. It means regularly attending trade association meetings and networking sessions. It also means devoting time to online activities.
And it means recording the results from each activity. There is no point spending five hours a day "networking online" if it results in no prospects!
Other points to consider when assessing your prospects:
Is your market consumer of industrial?
Is your market local, regional, national or international?
Is your product lifestyle driven (e.g. fashion)?
Is price important?
How will your customers buy (shop, online, catalogue)?
There are many factors, but you do need to try and understand your customers, their habits and where they go.
Don't Kill A Sale Before You've Made It
Here are some final points to consider about attracting new clients.
Remember that first impressions are important. That could mean you, your sales people, your product, your website. A sale might not be won in the first few moments, but it could certainly be lost. Make sure your first impressions are good ones.
Consider your promises on delivery time, maintenance, performance and service. Again, these are all factors that could lose a sale.
Plan to make these factors right, and you will have a better chance of attracting – and keeping – new clients.
You might also like...