How to Write a Business Plan Using SMART Objectives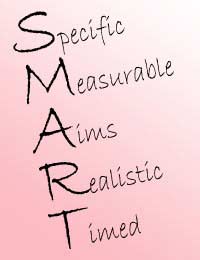 Writing a business plan with SMART objectives helps to keep the business plan short, to the point, and focused on real business objectives.
What Are SMART Objectives?
SMART is simple acronym used for setting objectives. They mostly speak for themselves:
Specific
Measurable
Achievable
Realistic
Timed
Using SMART business objectives to put together a business plan can make it very specific to what you are trying to achieve. Although the resulting plan might lack some of the verbal niceties usually associated with a regular business plan, this might not be a bad thing!
Using SMART objectives in writing a business plan enables you to come up with a business plan that can fit onto one page. Now that is focused and to the point! It should also enable you to relate your business planning directly to your marketing.
This style of business plan need only have five sections:
Vision
Mission
Aims
Strategies
Objectives
The idea is to concentrate your business planning to around ten key objectives.
Your Vision is statement of two or three sentences that encapsulates how you see your business developing in the next three to five years.
For example, let's assume you are just starting up a cabinet making business.
Your Vision could read:
Within the next five years, grow Cabs-R-Us into a successful local limited company with annual revenue of £2m, providing top quality bespoke kitchens, bedrooms and furniture.
Your Mission could be:
The best in bespoke kitchens and bedrooms.
The key to this style of business plan, though, is the relationship of the aims to the strategies and the objectives.
Let's dream up three sample Aims for our Cabs-R-Us business.
Build client base
Increase turnover
Expand range of bedroom furniture
Although these may be admirable aims, they are actually not very useful. How will you know when you've achieved them? How will you make them happen?
To deal with the second question first, the next section of your business plan is Strategies. The idea is to build strategies from your aims. There may not be a complete one-to-one match; there may be some overlap; but you will be able to build your strategy from the aims. For example:
Improve SEO on the website
Increase advertising in local newspapers
See what top national furniture makers are providing that we are not
It can be seen how these three strategies could help to improve the three aims, but these are not yet SMART. By using SMART Objectives we can get to a point where we know what we're doing and have a very clear idea of whether we have achieved our aims.
By engaging an SEO company we aim to quadruple hits on the website, in order to increase our client base by 10% in six months.
By doubling advertising spend in two specified local newspapers, as well as increasing hits on the website (above) Cabs-R-Us aim to increase turnover by 10% in six months.
Add two new bedroom furniture items to our range in the next 12 months.
Although I may not be an expert in cabinet making you can see how these objectives are SMART. They are all specific, with a singular purpose; they are all measurable, by having solid numbers in place; they are (hopefully) achievable, given the work need to make them happen; they are (again, hopefully) realistic (it might not, for example, be realistic to say "double turnover in six months – much though we might like to!); and finally, they all have a time scale against which they should be measured.
Writing your strategy into SMART business objectives in your business plan is a good way of giving yourself well-defined and focused targets towards which you can target your marketing, which should help to propel your business forward.
HOW TO WRITE A BUSINESS PLAN IS FOR SALE.
This website is for sale [more info].
You might also like...
Seems the pink image has the mixture of SMART and business plan, probably it should be Achievable for A instead of Aims.
NM
- 27-Aug-13 @ 11:12 AM