Estimated Profit and Loss for the Next 3-5 Years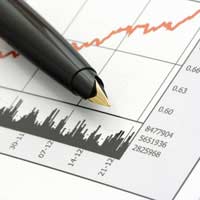 Forecasting profit and loss for the next few years is a difficult exercise, but it is an important appendix to the business plan when a business starts up. These forecasts could depend the amount of finance investors are prepared to put into the business.
Profit And Loss
There are a lot of factors which go into forecasting profit and loss, but they can be boiled down to two key headings:
These can go under different headings: revenue or sales for income; costs, expenses for outgoings, but it comes down to how much money is coming into the business, and how much money is going out.
If money coming in during one year is higher than money going out, you've made a profit.
If money coming in during one year is less than money going out, you've made a loss.
Making a loss does not necessarily make the business insolvent, as it may have started the year with plenty of money, but, for example, you cannot pay any shareholders a dividend if you've made a loss.
The difficulty, of course, is not in the calculations. It is in the forecasting. How can you forecast the sales and any other income? And how can you forecast your costs? This is particularly difficult for a business that is just starting up and has very little data to work from.
Sales Forecasting
Achieving accurate sales forecasts might be desirable, but will cost more to get. Sales forecasting comes from knowing or estimating the
market demand
for your product, and the
company demand
for your business.
Estimates for market demand may be improved with better data, which may be obtained from, for example, market research companies (at a cost).
Estimating company demand is even harder, but your share of the market will depend on several factors, such as: how it and its services, products, brands, prices are perceived by consumers.
Once you have some indication of your expected sales, it is useful to break the forecasts down by month to assist with cash flow forecasts, but this is not essential for profit and loss forecasts, which are judged over a year.
(There is another article in this series about forecasting sales figures).
Outgoings
As well as forecasting sales, you need to forecast your outgoings to come up with a profit and loss forecast. With the best will in the world, it is actually possible you might achieve zero sales, but there is no way you will have zero costs! That's the bad news. The good news is that is actually slightly easier to forecast your outgoings than it is to forecast your sales.
Early on, you should know costs associated with many of the following: rent, equipment, maintenance, inventory, supplies, and you can plan for salaries, overtime and benefits.
Although it is easy to see costs running away with themselves, you can keep most of them under control. Here are few others to consider: advertising and marketing, bank charges, books, magazines, travel and subsistence, training and development, insurance, sick pay, signs, stationery.
It seems a long list, and it's by no means complete, but much of it is controllable. It certainly needs to be under control at all times, but there will always be something you forget – so keep a contingency fund, if at all possible.
Profit And Loss Estimates
Armed with your sales forecasts and your expense forecasts, the calculation of profit and loss is relatively straightforward, although you will have to be careful about the timing of when income arrives into the business and when money leaves to pay for things. Taking finance forecasts forward over three to five years is not difficult in theory, but the further out your figures go, the less accurate they are likely to be.
Forecasting sales and expenses is no easy task, especially for new business, but it is important for estimating profit and loss over future years. It is best to be pessimistic in forecasting both revenue and costs. Then, if you achieve more sales or keep costs down you will be more likely to make a bigger profit.
You might also like...