Predicted Sales for the Next 3-5 Years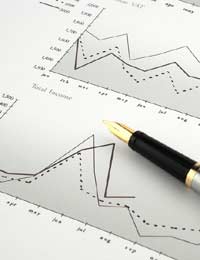 Forecasting sales is an extremely difficult exercise, but it is very important for a business to make forecasts and get them as accurate as possible.
When a business is first set up, it needs to make some forecast for sales in its initial business plan. This will help anyone who might finance the operation to decide how viable the business is, and when they might see a return on their investment. The trouble is: how can a business make those initial sales predictions?
Is there a science behind sales forecasting? Is it an art?
Businesses use their sales forecasts to determine how much revenue will come into the business over a specified period. This then helps the business decide its investment in equipment and employees at the very least.
Sales forecasting can be done at two levels.
Macro forecasting is a prediction of the market in total, looking at market demand in the future.
Micro forecasting looks at unit sales forecasts in detail. What is a product's share of the market and how will that change in the future?
Sales Forecast Accuracy
Achieving as accurate sales forecasts as possible might seem desirable, but it will cost more too. The accuracy of forecasts depends on various factors, including reliable and up-to-date information. The longer the period of the forecast the less reliable the forecasts are likely to be. In addition, if a product is new, then there is little or nothing to base forecasts on; conversely if a product is well-known and mature, then sales forecasts should be more accurate, with information on, for example, seasonal fluctuations of sales.
Sales Forecasting Stages
Estimate market demand
Estimate company demand
Develop the Sales Forecast
Estimate market demand
Market demand is the total volume of sales that can be achieved in a defined marketing environment, in a set time period, in a defined geographical area. Let's say you are selling kitchens in Hampshire. We'll just make some figures up to demonstrate the way this works. The population of Hampshire is 1.7m. Let's say one in a thousand buys a new kitchen each year. That's a total market of 1,700 kitchen buyers. Let's say the average kitchen costs £5,000.
Thus the estimate of market demand is £8.5 million in a year.
Estimate Company Demand
Company demand = market demand * company market share
This is harder than estimating market demand, especially for a new business. How can you predict what your market share will be? A company's market share will depend on how it and its services, products, brands, prices are perceived by consumers. If everything else was the same, a company's market share would depend on the size and effectiveness of its marketing compared with competitors. (Of course, all things are not equal…)
Let's assume a new kitchen company in Hampshire can achieve a market share of 2%.
Company demand = £8.5m * 2% = £170,000 (per year).
(Please ignore whether these are realistic figures; they are merely meant to demonstrate how the forecasting works.)
Develop The Sales Forecast
Sales forecasts are not the same as sales targets (sales to aim for) or sales budgets (usually more conservative than sales forecasts). A Sales Forecast is the level of company sales that are expected based on a marketing plan and a marketing environment. It is helpful to break the forecasts down by month to assist with cash flow forecasts.
These are the calculations to make sales forecasts, but how do you estimate market demand, and how can you forecast your business's market share?
How Can You Estimate Market Share?
Data on
market demand
may be obtained from an industry trade association or from a marketing research firm.
Market share forecasting is even more difficult.
You need to find out:
What customers have done in the industry in the past
What customers are doing in the industry now
What customers say about their buying intentions in the industry
There exist market research companies which survey customers' intentions and sell this information to businesses (remember the earlier comment about the cost of accurate information).
Sales forecasting is no easy task, especially for a new business, but it is important for finance decisions and cash flow forecasts. It is probably best to be cautious and pessimistic in forecasting sales, to protect your cash flow. If better sales figures are achieved, that is good, and the figures can be used for future forecasting.
You might also like...